Mail & Care Packages
Everything you need to know...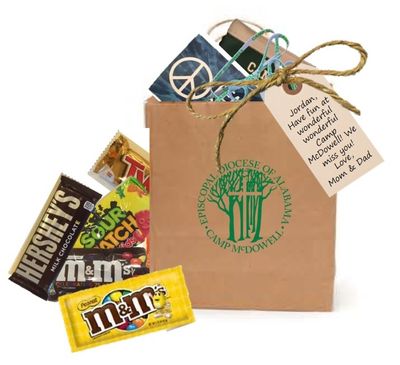 When are mail and care packages delivered to campers?
Care packages and mail are delivered to campers daily except for the first and last days of each camp session. Care packages are not delivered during the sessions of Primary I & II since campers attend with a big camper.
How do I get my package to my camper?
Option 1: Order it
Order your care package(s) from The Camp Store and choose "local pickup" for your shipping option. Camp staffers will put it together for you and deliver it on the day(s) you designate. Include your camper's full name and camp session in the notes.
Option 2: Make it
Make your care package(s) at the Camp Store AFTER you drop off your camper. You can bring items with you, add some Camp Swag from the store, or start from scratch - we'll provide bags & will help you!
Option 3: Bring it
Bring your already-made care package(s) to the Camp Store AFTER you drop off your camper. There are bins in the back where you can choose which date(s) to deliver.
Option 4: Mail it
Mail your care packages to camp well before the session starts and we'll deliver it for you. Labeling is everything! Make sure you write legibly and include your camper's full name, the camp session, and on which day you'd like it delivered. Mail should be sent to:
Camp McDowell
[session name & cabin name]
[camper full name]
105 Delong Road
Nauvoo AL 35578
How many care packages should I send?
We prefer and recommend sending only one care package per session per camper with the exception of birthdays (which might call for a little extra something). Keep in mind that some campers might not receive mail or packages.
Will you put together a care package for my camper for me?
Yes! Camp Staff will put together any care packages made up of items from The Camp Store. You can do this in two ways:
Online: Purchasing your care packages before your camper's session begins helps staff out a lot! We can have your package(s) put together, labeled, and ready to go before your camper even arrives. Specify in the notes section during checkout the name of your camper, which session your camper is attending, and which items are to be delivered on which day. We will make sure it gets to them!
In Person: After you drop your camper off at camp, stop by The Camp Store and we will help you put together and package up your care packages before you leave.
Do all campers receive care packages?
Sending care packages and mail is voluntary. Some campers might receive a care package or piece of mail daily, while other campers may not receive any.
Can I send care packages to a camper other than my own child?
*Yes. The distribution of care packages works like typical mail. Packages and mail can be sent to whomever you choose. We welcome care packages addressed to "For any Camper." We will make sure it gets to a camper who otherwise wouldn't receive anything.
Is there anything I should NOT include in a care package?
Contents of care packages should stay within the policies, practices & guidelines of the camper packing list.
*Camp McDowell is open to ALL campers. Some campers attend with partial or full scholarships due to their family's financial situation. Any care packages addressed to "For a Scholarship Camper" will be distributed to scholarship campers who have not received a care package by the last day of their session's mail distribution. If you would like to give towards the Summer Camp Scholarship Fund, click here. (Make sure you select "Summer Camp Scholarship Fund" from the drop-down menu.)